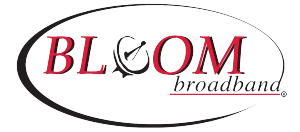 What to Consider When Buying a Cable Modem for Internet Service
Bloom Broadband recommends the ARRIS CM8200A that is for sale at your Leasing Office but you are free to purchase your own cable modem from somewhere else.  If you do not purchase a cable modem from the Leasing Office, we want you to make the best purchase to fit your online needs.  To do that, please be aware of the DOCSIS protocol version of a cable modem before purchasing.
---
DOCSIS 2.0 Modems -  Absolute maximum possible speed is about 35 Mbps, on a good day.
DOCSIS 3.0 Modems - 
4-channel bonding (SB6120/SB6121 models for example) – 140 Mbps on a good day.
8-channel bonding (CM820A plus many many other models) – Typically 250 Mbps or less.
16 or more channel bonding – Capable of fully functioning on our 300 Mbps.
DOCSIS 3.1 Modems - Inherently 32-channel bonding capacity – Capable of fully functioning on our 300 Mbps and ready for future upgrades.
 A DOCSIS 3.1 modem is not required in order to sign up for our 300Mbps service!   
If you would like to know what version of DOCSIS your cable modem has, or a cable modem you are considering purchasing, please call our Call Center at 1-877-735-6089.
---
Don't Overlook the Cables
Cabling -  Loose cables WILL result in poor Internet service every time.  Loose or poor cabling may even cause your neighbors to have poor service as well.  Please be sure that all your coax connections are snugly threaded onto your cable modem and wall outlet.  Your leasing office will provide you with Coax cables and splitters at no charge.  We are that serious about getting you quality cables and splitters that work well.
Cable modems with an Intel Puma chipset have intermittent ping times, which are problematic.
---
Our Call Center hours are 9AM-9PM EST Mon-Sat and 1PM-6PM EST Sun.  During those hours you can reach a trained agent in our U.S. based Call Center.  After hours you can always leave a message and we will respond as soon as possible.
Internet Support: (877) 735-6089
You're also welcome to email anytime at Internet_support@bloombroadband.com